Sotheby's and Christie's have both held their winter Impressionist and Modern sales this week reaffirming that the art market is still buoyant. Yesterday's sale at Sotheby's was topped by Pablo Picasso's Tête de femme, a 1935 portrait of his greatest muse Marie-Thérèse Walter that sold for £18.9 million / $27.1 million. 
Helena Newman, Global Co-Head of Sotheby's Impressionist & Modern Art Department, said: "Tonight we saw continued market activity across all price levels, with depth of bidding from a broad international spectrum. Five lots selling for more than £7/$10 million and there was particular strength for sculpture and Surrealism – with record prices achieved for both Rodin and Delvaux."
The leading works sold included a cast by Auguste Rodin's Iris created in his lifetime which achieved £11.6 million / $16.7 million, and marking a new auction record for the artist. Once in the collection of Sylvester Stallone, the same cast last appeared at auction in 2007 at Sotheby's London, when it sold for a then record £4.6 million The most recent auction record for the artist was £9.6 million. Sculpture performed well throughout the evening, with 9 of 10 pieces on offer sold, for a combined total of £17.1 million.
The Surrealist section of the sale was led by Paul Delvaux's Le Miroir, which once again achieved a new auction record for the artist, selling for £7.3 million / $10.5 million The same painting set an auction record for the artist when it was last sold in 1999. Combined the Surrealist material totaled £14.9 million / $21.4 million, including a new auction record for a sculpture by Man Ray
Claude Monet's Le Palais Ducal vu de Saint-Georges Majeur from 1908 sold for £11.6 million / $16.7 million Of Monet's 36 Venice pictures, half now reside in museum collections Henri Matisse's La Leçon de piano from 1923 sold for £10.8 million / $15.5 million. The painting was acquired by Royan Middleton, an Aberdonian printer and publisher in 1927 and has remained with his family ever since. The work is closely related to a number of paintings in major museums including the National Gallery of Art in Washington, D.C. and the Kunstmuseum in Berlin
Auction records Achieved:  Paul Delvaux (lot 48), Auguste Rodin in GBP (lot 22) A work on paper by Francis Picabia (lot 46) A sculpture by Man Ray (lot 42)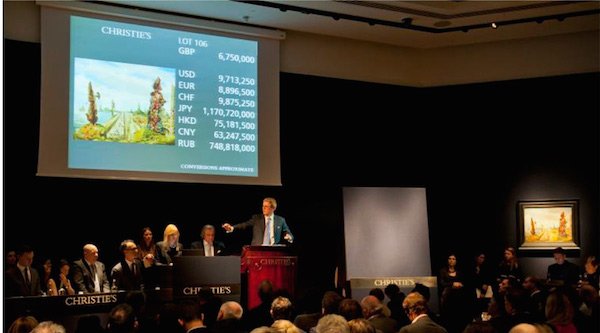 Christies
Christie's Evening Sales of Impressionist and Modern Art and The Art of the Surreal, in London on 2 February, realised a combined total of £95,917,100 / $138,024,707 / €126,418,738, selling 75% by lot and 87% by value. The top price of the evening was achieved by Max Ernst's museum-quality work The Stolen Mirror, which sold for £7,642,500 / $10,997,558 / €10,072,815 (estimate: £7-10 million). In total, 27 works of art sold for over £1 million / 34 for over $1 million. Two artist records were achieved: for Georg Scholz and also for Peter Rose Pulham; a record for a work on paper by Salvador Dalí was also set. This evening marks the start of a week of Impressionist, Modern and Surreal art sales at Christie's King Street and South Kensington with estimates that start at £300; the auctions form part of 20th Century at Christie's (29 January to 12 February).
Jay Vincze, International Director and Head of The Impressionist and Modern Art Department, Christie's London, and Olivier Camu, Deputy Chairman, Impressionist and Modern Art, Christie's: "We are pleased with the total realised this evening and with the high sell-through rate by value, accompanied by the solid sell-through rate by lot. We had strong interest across price levels and periods, from Paul Cezanne's 1882 work 'Ferme en Normandie, été (Hattenville)', through to Joan Miró's 1968 'Femme et oiseaux dans la nuit'. With registered bidders from 35 countries across 5 continents demonstrating the continued breadth of interest in the category, we continued to welcome strong participation from Asia, America and Europe."
The top lot of the sale, The Stolen Mirror by Max Ernst (1891-1976) sold for £7,642,500 / $10,997,558 / €10,072,815 (estimate: £7-10 million). A surrealist technical tour-de-force which is highly autobiographical and one of the artist's finest works, this dream-like landscape was painted in 1941 at the pinnacle of Ernst's oeuvre, when he was using the decalcomania technique of manipulating paint.
Other highlights of the evening included: Selbstbildnis mit gespreizten Fingern (Self-Portrait with Spread Fingers), 1909, by Egon Schiele (1890-1918) sold for £7,250,500 / $10,433,470 / €9,556,159 (estimate: £6-8 million). An important early work, dating to a breakthrough year when Schiele reached creative maturity this painting reveals the artist already beginning to move beyond the dominant influence of his mentor Klimt towards a new, more existentially aware expressionist art.
Acquired over 30 years ago, Les mariés de la Tour Eiffel by Marc Chagall (1887-1985) realised £7,026,500/ $10,111,134 / €9,260,927 (estimate: £4.8-6.8 million). Painted in 1928, this is one of the artist's most romantic paintings of the 1920s, celebrating the love between the artist and his wife, Bella, as they entered a new phase of security and contentment in their lives.
A major large-scale painting of one of the artist's favourite subjects, Femme et oiseaux dans la nuit (Woman and Birds in the Night), 1968, by Joan Miró (1893-1983) realised £5,794,500 / $8,338,286 / €7,637,151 (estimate: £3-5 million).
Fishermen in the Sun by Salvador Dalí sold for £1,178,500 / $1,695,862 / €1,553,263 (estimate: £700,000-£1,000,000). This is the finest of a unique, distinctive and very rare series of six relief-paintings made during this period in which the artist pioneered a completely new stylistic direction in his work; of these six paintings, four now reside in museums including the Fundación Gala-Salvador Dalí, Figueras and the Reina Sofía, Madrid.
Tags
2016
,
Christie's
,
Sotheby's
,
Winter Modern and Impressionist sales